Cowork Launceston is a collaborative and innovative place to work from in Launceston.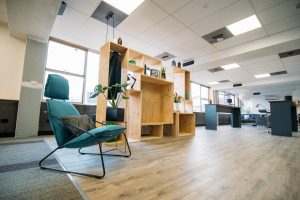 Business Advice Tasmania is proud to be a tenant of Cowork Launceston in their new Launceston CBD location. The space is the first purpose-built coworking venue in Tasmania, it is located at Level 1, 93 York Street Launceston, TAS 7250.
What is Coworking?
Coworking is a generic word that's generally used to describe a situation in which two or more people are working in the same place together, but not for the same company.
This describes perfectly what Cowork Launceston is. A space in the CBD of Launceston, with a modern, light-filled fitout , we are a group of businesses who share a space together but do not work together.
Coworking spaces allow individuals, startups, small companies, travelers and others to tap into communal office space and resources on a flexible basis.
Coworking is a cost-effective and collaborative way to do business in the Launceston CBD. People and businesses of all sizes work out of
the space in a manner to suit their needs. Some work full-time, others work casually, while others just work out of the space when they
are in Launceston.
Businesses come from all sectors and range from sole traders, companies, not for profits and large corporations. Being part of a
coworking community provides benefits to businesses of all sizes.
Cowork Launceston is structured as a Not for Profit entity, incorporated as an Association. The members run the space for the benefit
of the membership.
Cowork Launceston provides:
Desk and chair
Meeting rooms
Board Room
Training Room
Event Space
Fast wireless NBN internet
Wireless printer – you pay for the printing you do
Tea & Coffee facilities
A community of like-minded individuals
Power
Bring your computer and start work!
Call Chris on 0488 296 375 or email info@coworklaunceston.com.au to make a booking or find out more.
You can book a desk at www.coworklaunceston.com.au or like our Facebook page here: http://www.facebook.com/CoworkLaunceston