of Cowork Launceston is a collaborative and innovative place to work form in Launceston.
Business Advice Tasmania is proud to be a partner of Cowork Launceston to bring coworking to the Launceston CBD. We want to see Launceston as a vibrant place to do business.
We are located in the historic Launceston Post Office building at Suite 7, Level 2, 68-72 Cameron Street Launceston, TAS 7250.
What is Coworking?
Coworking is a generic word that's generally used to describe a situation in which two or more people are working in the same place together, but not for the same company.
This describes perfectly what we are, a space in the CBD of Launceston, housed within the historic Launceston Post Office, home to the town clock, w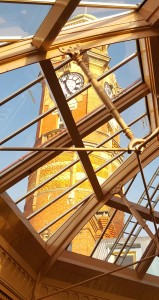 e are a group of businesses who share a space together, but do not work together.
Coworking spaces allow individuals, startups, small companies, travelers and others to tap into communal office space and resources on a flexible basis.
For a cost effective and collaborative way to do business in the Launceston CBD.
What we provide:
Desk and chair
Meeting rooms, first booked first in
Fast wireless NBN internet
Wireless printer – you pay for the printing you do
Tea & Coffee
A community of like-minded individuals
Power
Bring your computer and start work!
Call Chris on 0488 296 375 or email info@coworklaunceston.com.au to make a booking or find our more.
You can book a desk at www.coworklaunceston.com.au or like our Facebook page here: http://www.facebook.com/CoworkLaunceston