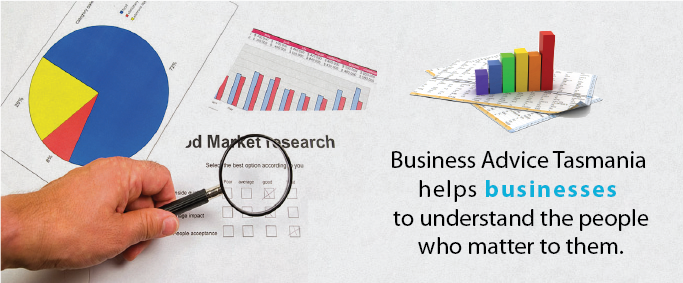 Business Advice Tasmania can help with your market research in Tasmania.
Market research is the organised effort to gather information about markets and customers. It is a very important component of business strategy, it is about reducing uncertainty and increasing understanding about the issues facing your business.
Business Advice Tasmania helps businesses to understand the people and the issues that are important. We have a particular understanding of the Tasmanian business market. Why? Because we live and breath Tasmanian business.
We will help you with looking at who your customers really are and who are not your customers.
Businesses shouldn't be trying to sell ice to the Eskimoes. MORE IMPORTANTLY you shouldn't wasting valuable advertising dollars on promoting ice to Eskimoes.
If your business needs intelligence on doing business in Tasmania, particularly in the business to business space, we can help you understand those idiosyncrasies that make Tasmania special.
Some of tools we use to gather information include:
Surveys – online, email, postal, face to face

Focus groups

Customer feedback data
Telephone conversations
Community forums
Our extensive networks
How we complete your Market Research will depend on your goals, there is never a one size fit all when it comes to researching customer, competitors or the market in general.
Contact us for help with your Tasmanian market research.